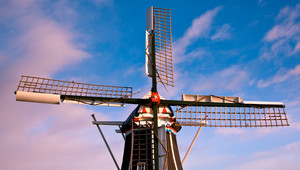 Dokkum
Dokkum is a beautiful fortress in the north of Friesland and is one of the eleven cities. The city is internationally known because Saint Bonifatius died in the vicinity of Dokkum. In the museum of Dokkum you can admire an exhibition of Bonifatius.
Because Dokkum is an old fortified town, there is still a lot of cultural heritage to admire. Due to the various canals, stepped gables and strongholds, Dokkum still exudes its historic atmosphere. Also creates a cozy impression in the city. There are also fortified walls around the city.
There are many attractions in the city. Such as the famous turning point of the Elfstedentocht, one of the 11Fountains, Sint-Bonifatius church, Museum Dokkum and Museum the Admiralty House. Of course, Dokkum also has many cozy cafes, restaurants and shops in old buildings, surrounded by beautiful nature. Dokkum is also the perfect city for an afternoon of shopping!
Harlingen
Harlingen is one of the oldest seaport cities in the Netherlands and is known for its nautical past and cultural heritage.
Various ships of the brown sailing industry are illuminated in the winter in the harbor of Harlingen, a beautiful sight! Harlingen is definitely worth a visit! It is a pleasant harbor town and is one of the Frisian eleven cities. Did you know that Harlingen is the most important port city of Friesland?
There are many attractions in the city. Such as one of the 11Fountains, the Expedition Ship of Willem Barentz and the Harlinger Tile Factory. What is also nice to see are the many warehouses. Finally, you can also admire the Lighthouse of Harlingen in the harbor.
Harlingen also offers many options in the field of water. You can spot seals, take trips on the Wadden Sea, take a beautiful walk on the seawall and through the harbors or go sea fishing!