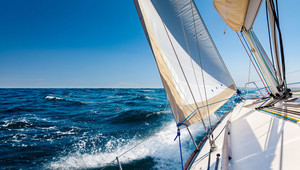 Watersports
Fryslân is a water-rich province, making it a unique place for water sports and recreation.
On the water you can enjoy the ultimate feeling of freedom during all seasons, the sun on your face and the wind in your hair. Every year many people in Friesland recreate in and on the water. It involves all kinds of water sports.
The whole of Southwest Friesland is connected by water. From the Frisian lakes to the IJsselmeer and from small canals to ditches.
Come and discover the Frisian lakes with your own boat or rent a boat from the many boat rental companies. Sail one of the beautiful sailing routes that Friesland has to offer. Or come for a day of sailing or sloop sailing with friends or family. You can also choose to go on a tour. Or go for an activity such as kite surfing, windsurfing, supping or fishing. In short, there is plenty to do on the Frisian waters!
Of course, you can also sail the Elfstedentocht! Skating the Elfstedentocht is a dream for many. Every winter, Friesland and the whole of the Netherlands anxiously await whether there will be an Elfstedentocht. Unfortunately, winter keeps letting it down. There is therefore another fun way to experience the Elfstedentocht, namely by boat!
Sail past the beautiful historic Frisian cities, enjoy the wide Frisian landscape and be amazed by the peace and space that Friesland has to offer. In every season you can decide to sail the Elfstedentocht. Your Elfstedentocht by boat will happen no matter what! The water is always there!